The Belarusian-Chinese seminar on logistics "New opportunities for supply chains along the Belt and Road route" took place on September 9, 2020. The event was held as part of the China International Exhibition of Services (2020 CIFTIS), the press service of the Belarusian Embassy in China.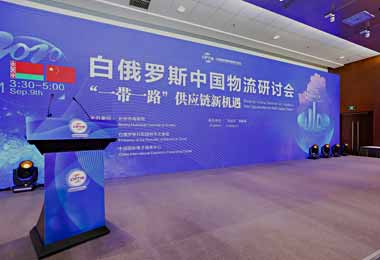 As reported in the diplomatic mission, the event brought together over 150 participants on its site, including the leadership of the largest Belarusian and Chinese logistics companies, manufacturers and exporters, their specialized associations, as well as representatives of state bodies represented by the Ministry of Transport, the State Customs Committee, the Belgospishcheprom, the Ministry of Agriculture and Food, the Ministry of Industry .
"The export potential in the international market of logistics services was presented by the Association of International Road Carriers" BAMAP ", RUE "Beltamozhservice" , SE "Belintertrans-TLC", LLC "Bremino Group", STA Logistic. The participants emphasized that in the context of the pandemic and quarantine regime, logistics and customs clearance have become one of the key elements in the delivery of medical supplies. The growth of mutual trade opens up markets for transport companies, while the development of logistics creates competition and makes trade more profitable, "the message says.
As noted, this event became the first Belarusian-Chinese specialized forum in the field of transport logistics and allowed the carriers of Belarus and China to establish communication for further business cooperation.
According to information: noindex>
Related news:
Ex