RUE "Beltamozhservice" provides services for marking goods with excise stamps, unified control marks, Datamatrix identification tools, RFID tags. The company has the ability to carry out labeling both in the warehouses of the enterprise and in the warehouse areas of the customer.
Beltamozhservice has modern equipment for fast and high-quality marking. The warehouses of the enterprise have modern equipment for labeling alcoholic beverages – automatic lines that allow the pasting of alcoholic beverages with an excise stamp and a counter label at the same time. In addition, hardware and software complexes for labeling goods by means of identification (datamatrix codes) are actively used.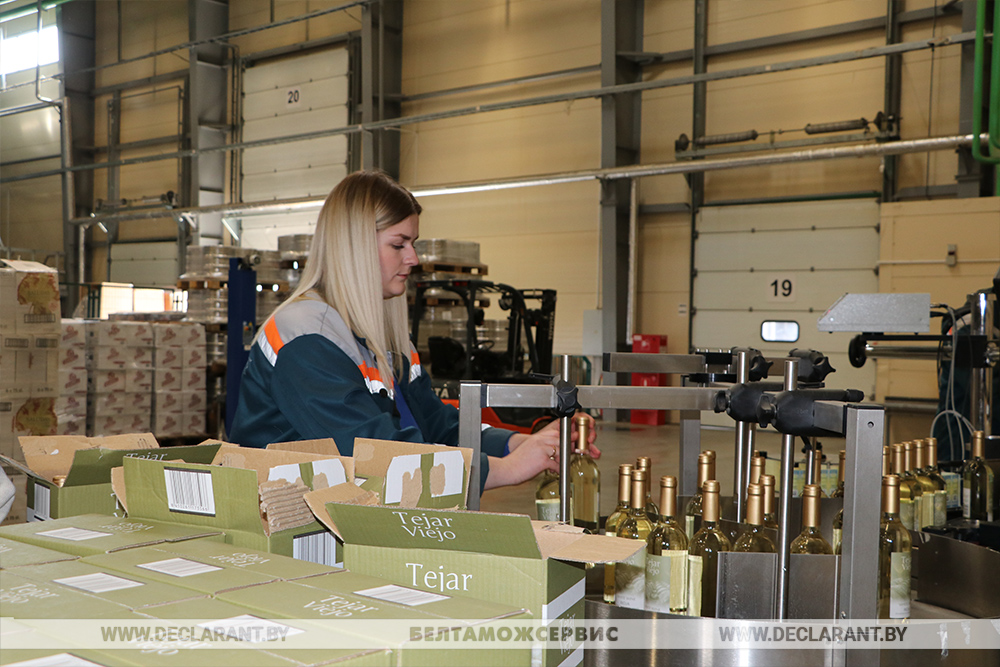 The advantage of Beltamozhservice is that the company has a wide network of transport and logistics centers, the use of modern technical solutions, as well as a staff of professional specialists. This allows the company to provide labeling services for goods, carry out labeling in combination with other services, for example, customs clearance, consolidation, deconsolidation, forwarding, delivery to the recipient quickly and efficiently. We work with both residents of the Republic of Belarus and non-residents.
Mandatory labeling of products implies affixing unique identifiers on it, which are special digital codes. With their help, it is possible to get all the information about a specific product:
the date of creation;
expiration date;
the composition of a certain product;
manufacturer information;
data on the place and conditions of production;
movement of each product unit (sale, import).
Information about the labeling of goods allows you to control the turnover of all products at the state level, preventing the sale of counterfeit goods and fakes. The generation of codes for marking takes place in the state system "Electronic sign". Identifiers cannot be forged, because special encryption tools are used to create them. In addition, the code is applied to the product in such a way that it is impossible to remove it without damage. Therefore, the transfer of the identifier to counterfeit products is impossible. It should be noted that you would not be able to reuse the code, because after the sale of the product or its write-off, it is permanently withdrawn from circulation.
According to the legislation, the labeling of goods does not provide for concessions to goods that are not read by special devices. If the scanner cannot identify the product, then it should be returned back to the supplier. It should not go on sale..
For all questions concerning the organization of labeling of goods, you can contact RUE "Beltamozhservice" by calling a unified short number 197, as well as the international number +375 33 911 11 97 .