A weekend in a cozy and picturesque corner of Belarus? With excellent service and out-of-town rest? The whole family or a group of friends? Personal holiday, excursion or corporate leisure? For any reason - Beltamozhservice-Brest IS WAITING FOR YOU!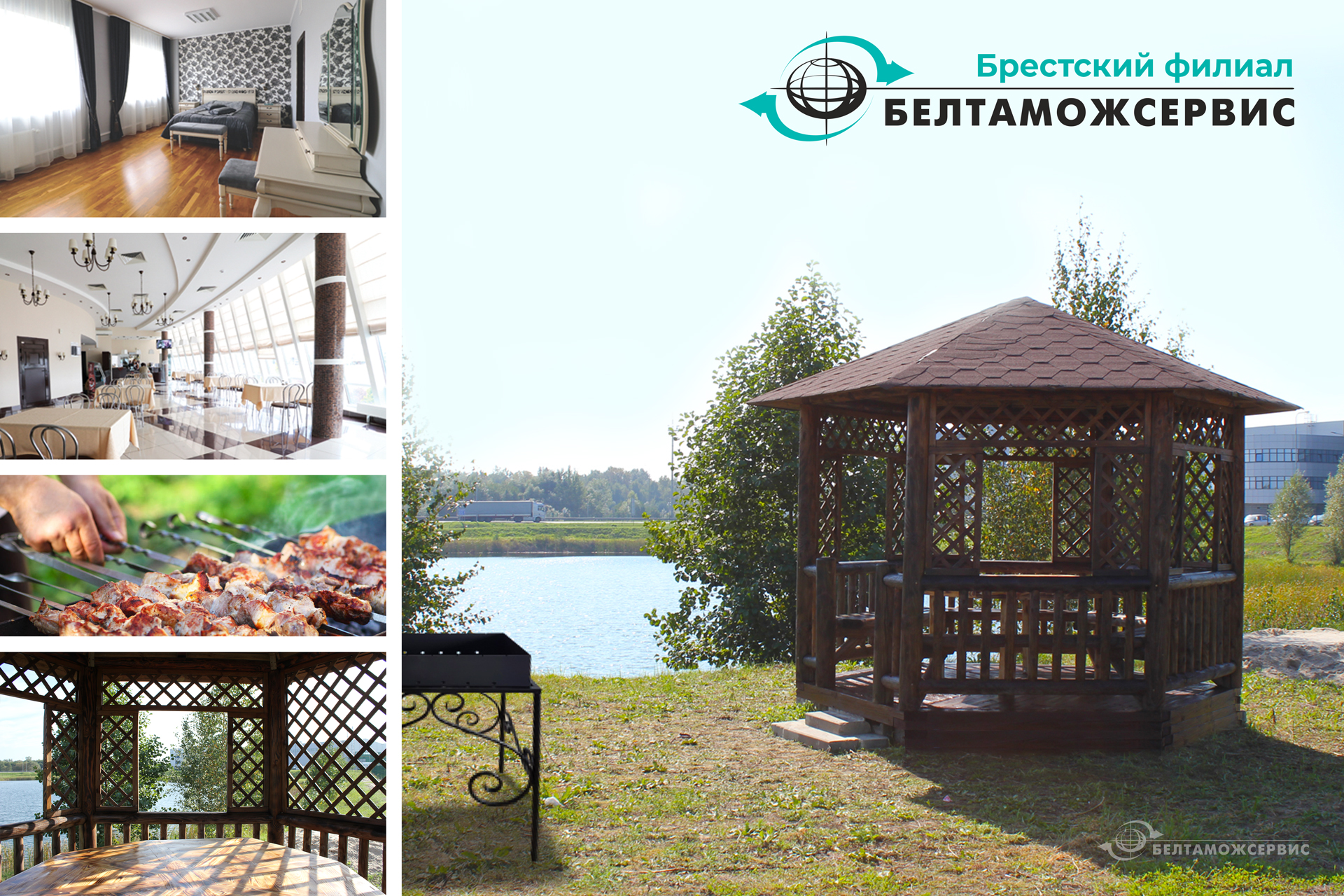 A new format of out-of-town recreation - a large area with a cozy hotel for 76 people, which has everything you need for short-term and long-term stays, a sauna, fishing, gazebos with barbecue, a cafe for 50 people and your own alcoholic beverages store at special importer prices. / p>
Modern hotel "Beltamozhservice-Brest".
Rooms are decorated in a classic style, equipped with flat-screen TVs. It offers a round-the-clock front desk, free access to high-speed WI-FI, a left-luggage office, a conference room (transformer), a round-the-clock sale of souvenirs, confectionery products and soft drinks, a sauna, free parking with the ability to accommodate both cars and large vehicles (buses). The hotel is a "pets friendly hotel", and if you are traveling with your pet, our doors are always open for you!
Cozy cafe with excellent service.
On the first floor, in the lobby of the hotel, there is a cozy cafe with 50 seats. Where our guests can use not only a cup of aromatic tea or coffee with home-made pastries, but also the opportunity to have breakfast, choosing dishes from the menu,
order a set lunch and dinner. In our cafe there is an opportunity to organize an event for every taste: from a business banquet to a magnificent wedding.
Country rest in a new format!
In a cozy and picturesque corner of Belarus. The whole family or a group of friends and colleagues. Here you can spend a personal holiday, plan a vacation as part of an excursion around Belarus or corporate leisure. The suburban complex is an excellent location for a fishing festival or a barbecue day. An equipped gazebo, barbecue, grill will be an excellent bonus for booking hotel accommodation
Where? TLC Brest-Beltamozhservice-2, zero kilometer of the M1 highway, in close proximity to the international checkpoint "Kozlovichi" (border with Poland).
Coordinates: 52.126706, 23.578348
Hotel Beltamozhservice-Brest Brest branch of RUE Beltamozhservice is an excellent accommodation option at a reasonable price! We will be glad to welcome everyone!
Contact phone: +375 33 670 35 83